Wunderbrow | First Impression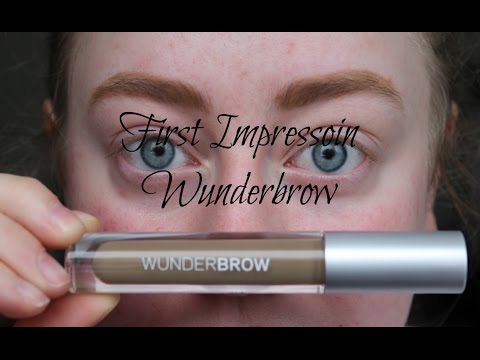 Produkt:
(annonselinker merket med *)
Jeg var heldig å vant denne i en konkurranse, og jeg var så glad når jeg fikk den for jeg har både hørt og sett denne overalt, og den har sett helt fantastisk ut!
Jeg prøvde den for første gang på kamera, som du kan se over, og jeg ble helt forelsket! Jeg har prøvd den et par ganger etterpå, og jeg synes fortsatt den er helt fantastisk!
Noe jeg har lært er at den er lettere å ha på når du ikke har for mye produkt på kosten. Da kan den bli litt vanskeligere å blende jevnt ut, og du kan få striper i brynene, spesielt rundt kantene, som jeg synes ser veldig "harsh", eller unaturlig ut. Jeg er veldig glad i en naturlig bryns look, og denne gir meg det jeg er ute etter! Du kan ha på litt mer hvis du vil ha fargen litt sterkere, og den holder hele dagen både med bare litt på, og med litt mere produkt!
Jeg testet den også på hånden min, og den var der på slutten av dagen! Litt av fargen hadde gått bort siden jeg hadde vasket hånden min med såpe og vann flere ganger, men jeg prøvde den først kun under vann og gnidde på den når det var både tørr og våt og den rørte seg ikke! Kun etter ett par vask med såpe i tillegg til vannet merket jeg at litt av fargen kom av. Jeg måtte bruke en sminkefjerner med olje (
Garnier Micellar Water-in-Oil
*) for å få av restene på hånden, og det på brynene.
Jeg elsker denne, og selv om prisen er ganske høy, synes jeg den er verdt det siden du ikke trenger å bruke mye i det hele tatt!
-
I was lucky to win this in a competition, and I was so happy because I've seen and heard about this all over the place and it looks amazing! I tried it for the first time on camera, as you can see above, and I fell in love! I've used it a couple of times after and I still think it's absolutely fantastic!
Something I have learnt about it is that less is more. I find it easier to apply when I don't put too much product on the brush. When there is too much product I find that it can look streaky and be a little difficult to blend out, and it leaves a pretty harsh line around the brows that I don't like. I'm more into the natural brow look, and this gives me that. I find that you can add a little more colour if you think it's a little light, but starting with a light coat and than adding more where you think necessary definitely looks the best on my brows!
For the swatch on my hand, it stayed on pretty much all day! I washed my hand with only water and rubbed on it to see if any colour would come off, and it didn't! Only at the end of the day after I had washed my hands with soap and water multiple times did I notice some of the colour coming off! But the swatch was still noticeably there at the end of the day and I had to use a makeup remover with oil (
Garnier Micellar Water-in-Oil
*) to get it off my hand, and my brows.
Even tho the price is up there for a brow product I do think it is worth the money since you don't have to use much product to get a good result.
-Anja